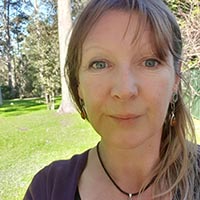 Jaine Alston
Jaine runs her own business as a meditation teacher & healer in 'One Breath at a Time Meditation', in the beautiful Jervis Bay area of NSW working with meditation, Reiki and other alternative therapies.  Jaine loves to work with her groups and enjoys learning from her them.  She has a passion for life-long study that can support others in finding themselves and manifesting their dreams.
Jaine has been a Registered Nurse for 14 years and has an interest in Pain Management working with the Acute Pain Service and recently becoming more involved with the Chronic Pain Groups.  During this time she has gained a clear understanding of the emotional, physical and mental processes involved in the journey as a patient and she can best support them.
Jaine's journey with meditation has seen her utilize many different technique to support herself and others in life's ebbs and flows & feels there is a meditation technique out there for everyone, you just have to find it.