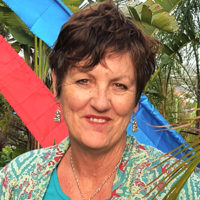 Kate Gee
Kate runs her own meditation business: "Beach Buddha Meditation" on the stunning Bellarine Peninsula in Victoria. She incorporates meditation circles, beginner's classes, workshops, 1 on 1-mindfulness sessions for children, school Mindfulness programs, working with NDIS recipients, Reiki and crystal healing sessions.
Kate was a primary and special needs teacher for over 30 years. Upon retirement, she decided to combine her love for meditation and teaching to form "Beach Buddha". This passion for working with children has also resulted in the development of an original Primary School Mindfulness Program: 'Mindfulness & Me.'
Kate's meditation practice began 20 years ago through a life trauma that drew her to learning meditation. Kate completed the Graduate Diploma with ACMM and has been leading meditation circles now for over 12 years. Kate's extensive experience in education makes her perfect to support Julie with on the Assessing Team and as assistant coach for the Parents and Children's Elective. She has recently authored and coaches the "Heart Centred Practices" elective.
"I am passionate about creating a nurturing space for others to connect to their own inner wisdom. I feel it is a privilege and joy to teach and guide others in meditation and mindfulness; particularly children. To foster that connection and to find space in this frenetic world in which to discover happiness and creativity; is of great importance. I am so grateful and blessed to experience the contentment, inner peace and wisdom that meditation brings into my life. I am keen to share what I have learnt with others and laugh lots on this journey together."