Highlighting Our Graduates – Amanda Goodfellow
This month we want you to meet ACMM graduate Amanda Goodfellow! Amanda is based in South Australia and runs her own business called Agile Mind. She is used to working in a corporate role and is now a meditation and mindfulness teacher and a Certified Kiloby Inquiries Facilitator. Continue reading her honest journey from corporate worker to business owner and meditation and mindfulness teacher. 
Hi Amanda! Tell us a little bit about yourself 
I am the Director of Agile Mind, a business that I started in 2018, specialising in meditation and mindfulness programs for workplaces. I also offer individual mentoring. I live in Adelaide with my husband, 11 year old daughter, and dog (a Lagotto) named Carlos. I have a Certificate in Guiding and Teaching Meditation and Mindfulness from ACMM and also a Certificate in Meditation Teaching from Lifeflow Meditation Centre. I also have a Grad Dip in Management and am a Certified Kiloby Inquiries (KI) Facilitator – a somatic based therapy.
Prior to launching Agile Mind, I worked in corporate roles. I was State Manager of Family Business Australia and the Australian Water Association for some years before moving into the role of Business Development and Marketing Manager at accounting firm Grant Thornton.
I love running my own business and helping people to enjoy the benefits of meditation and mindfulness.
What attracted you to become a meditation teacher and study with ACMM?
I became interested in meditation about 16 years ago as a way of managing my own poor mental health. I suffered with an eating disorder throughout my 20's and continued to experience recurring depression into my 40's. I have always tended to live 'in my head'. In 2005 I went to a Learn to Meditate class and from that very first session, I knew I had found the missing piece – a simple, practical tool that I could use to understand and navigate my emotional weather patterns. I wish I had learnt to meditate when I was younger.
I completed a meditation teaching course at Lifeflow Meditation Centre not because I wanted to teach, but purely out of interest in the process. However it wasn't long before people were asking me to run sessions at work and in the community. I met Lisa Forde and her team at the Meditation Australia Conference in 2018 and decided to enroll in the Certificate course with ACMM to supplement and consolidate my learning. This was a great decision. I loved the course and my beautiful coach Morgan who was incredible.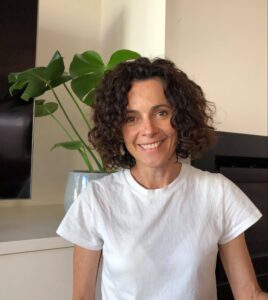 How has meditation impacted you on a personal level – what are the benefits you have seen?
Meditation has completely changed my life. I have had 20 years of 'talk therapy' with psychiatrists, psychologists and counselors, which was helpful to some degree, however it tended to keep me stuck in my head. Through meditation, I have learnt to sit with unpleasant emotions, sensations and see where I'm stuck in old patterns and limiting beliefs. Meditation has helped me to see where I am dissociating, distracting and avoiding, and given me tools to sit and experience what is. I have found so much power in that.
Through ACMM I met fellow graduate Bronte Spicer who introduced me to the Kiloby Inquiries (KI)- a set of somatic mindfulness techniques which I am now working with, both personally and to facilitate others. Meeting Bronte was another life-changer. She has helped me so much.
What does your personal meditation practice look like? What styles or types of meditation do you enjoy?
My practice changes regularly. I like to meditate in the morning after school drop off and set myself up for the day ahead. However, as we all know, things don't always go to plan, so often I just need to find moments throughout the day to bring myself back into balance through mindfulness. I'm a big fan of 'little and often' – using techniques that help me stay in balance no matter what is happening around me.
I absolutely LOVE retreats and have found these to be transformational for my meditation practice. We are so rarely given the opportunity to just be with ourselves without any distractions or obligations. For me, retreats are where we can really let go and the magic happens.
I also have an eclectic collection of singing bowls and enjoy using these in my meditation. I trained as a musician so feel very connected to sound and would one day love to study this modality as well.
Do you have your own meditation/mindfulness/holistic business, plans to start one?
Since launching Agile Mind in 2018 I have returned to paid employment 6 times. Every time I got scared about not having an income or not doing a good job I'd run back into the safe arms of secure employment. This has been a big part of my personal growth, and learning to trust myself and my abilities has been difficult at times. Running a business requires a lot of skills that I don't have (hello finance, admin, attention to detail) so I am constantly feeling out of my comfort zone, however I have never felt happier doing something I absolutely love and am passionate about. I've also learnt to seek help where I need it.
Coming from a corporate background, I was fortunate to have a strong network in business who have really supported me. I have worked with all sorts of organisations ranging from large ASX listed companies to local councils. Mostly this work is teaching people basic mindfulness and tools to stay balanced. During COVID lockdowns I started running one on one mentoring to support people who wanted to learn meditation without the hassle and commitment of a weekly course. This has become a big part of my work and something I absolutely love.
What would you say to someone who is thinking about becoming a meditation teacher?
Definitely do it. Even if you don't intend to teach others, the learnings I have uncovered about myself have been huge.
What have you enjoyed about studying with ACMM?
I love the practical nature of the course. It has helped me develop skills that I now use every day in my work. The coaches are amazingly supportive. I also love the Electives. I have done a number of them and given endless time, I'd do them all.
Amanda Goodfellow – Adelaide – Director, Agile Mind
@agilemindsa
https://www.facebook.com/agilemindSA
https://www.linkedin.com/company/18811628/admin/