Highlighting Our Graduates – Amsha Yogaraj
Meet ACMM graduate Amsha Yogaraj. She is a university student studying social work and has started her own meditation business in Perth, Western Australia! In this blog Amsha shares how she is using her qualification to run meditation classes at the University of Western Australia (UWA) and online. 
Hi Amsha! Tell us a little bit about yourself 
I'm currently residing in Perth with my family and am a full time Masters of Social Work Student at the University of Western Australia whilst working part time and working towards a career in social work. My passions include meditating (of course), dancing or any kind of mindful movement ie. yoga and pilates, reading fictional books, self help or motivational books or meditation books. My immediate family are as well so I always try to make time to spend time with them and my friends as well.
Recently I launched my start up The Sit to run meditation classes. Though a slow start it has been rewarding and I now have had the opportunity to run meditation workshops at university and high schools. The vision of The Sit is to run mass meditation events in Perth and Australia. All big dreams have small steps and I'm enjoying every small step to get there.
What attracted you to become a meditation teacher and study with ACMM?
After completing my psychology degree I had 6 months before commencing my postgraduate degree where I was working part time. During this time finding employment was a bit difficult and meditation was one of the things that motivated me or kept me going. I attended my first meditation session with sound bowls and something in me clicked and I felt drawn to it. Meditation teaching felt somewhat like an inner calling or my small way of contributing to the community. So I saved up and enrolled in ACMM course which seemed the most practical to my availability and learning needs.
Having completed the Advanced Graduate Certificate in Meditation Teacher Training I am still eager to continue a diploma and postgraduate qualification in a few years.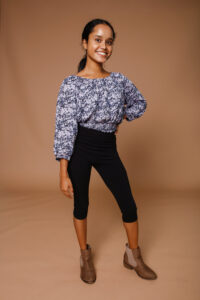 How has meditation impacted you on a personal level – what are the benefits you have seen?
Before signing up for a meditation teacher training, I had only meditated here and there through the apps such as Smiling Mind and youtube videos during high school. The combination of music and mindfulness is one way in which I practice self care and improve my own wellbeing, also taking into account exercise and diet. It was also recommended as part of therapy when I was seeing a holistic psychologist.
A year from then my meditation practice has continued to evolve and change. One main benefit is time for reflection and to build self belief and confidence in myself. Another main benefit is relaxation time after a day at work or university. The loving- kindness/ metta meditations are what I resonate with the most. Whenever I'm in a bad mood or notice I'm getting moody, I meditate with this technique to reflect on the good things in my life and to remember that I am and others are only human and we can't be perfect all the time. It's when I can let go of any worries I'm holding onto and create an emotionally safe space for myself and others.
What does your personal meditation practice look like? What styles or types of meditation do you enjoy?
My personal meditation practice looks like meditating either in the morning or evening. If I'm busy with a 9-5 day I usually meditate in the morning for 15 minutes and 15-20 minutes before going to bed. One of my most humbling takeaways from my course at ACMM was Tara Brach's advice on not having sufficient time to meditate. The meditation styles I mostly enjoy include a body relaxation, sound meditation or insight meditation. Sometimes I repeat mantras or affirmations which helps put me in a positive mindset and gives me a sense of confidence and courage.
When I have more time when I'm not studying I meditate for 1-2 hours a day. This usually involves silent mediation or metta/ loving kindness meditation. Loving kindness meditation is great for me as a heart opener and to reflect on what is good in my life.
Do you have your own meditation/mindfulness/holistic business, plans to start one?
Yes! I recently launched my start up The Sit via a facebook page, where I run online meditation classes and some group classes. I had the opportunity to run workshops on Creativity, Motivation and Inspiration at UWA. The Sit hopes to expand my running group classes and mass meditation circles or events in Perth. This is where the community of Perth can come together to experience meditation and music in a community setting in outdoor and indoor spaces with live musicians in Perth. This is to provide a relaxing experience for those in Perth. Eventually once profit is made it will go towards running free classes and providing resources as part of self help therapy for those with mood disorders.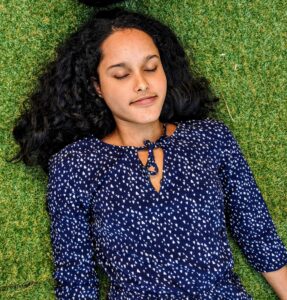 If not, what industry do you currently work in and how do you see meditation complementing your current skill set and workplace?
I've found meditation to complement my aspiring career in Social Work really well. In our counselling roles and clinical work we are learning Cognitive Based Therapy and progressive muscle relaxation is one of the techniques commonly used for this therapy. During my placement as well I ran some meditation exercises with the students as part of Wellbeing Week in their school which was fun and a learning experience for both myself and them. It's definitely an added skill to help clients with stress and emotional regulation.
 Can you describe your client base and who you want to work with/inspire/support?
My initial clients were family friends and my female friends who I had met through wellness groups or who also had similar interests in the wellbeing, meditation and holistic space. I then ran some classes for specific groups ie. my mum's friends with a Morning Meditation Session by The Sit at her friends' place. I also had opportunities to run some meditation workshops with university students, creatives and high school students.
Most of my clients are based in Perth, Australia and workshops are a great way to tailor the meditation technique/skills to them.
To run meditation workshops I would like to work with school students, university students, creatives, entrepreneurs and employees in the workplace. When running my regular classes or organising meditation events I would like to provide a nurturing and relaxing experience for all.
Do you have any events, workshops or classes coming up in the next few months? 
The Sit currently has a facebook page and a newly created website which will be updated where one on one online classes can be booked. If I run a class or Workshop it is posted on these pages. Feel free to check out The Sits facebook page for past workshops and workshops or events to be run.
I was invited by a social enterprise, Purposeful who run programs and workshops for students to help them find their place in the world. I got to run a workshop meditation workshops for high school students with them which was a great opportunity. I got to introduce them to meditation, ran through an insight meditation and affirmation exercises on self belief and attaining your goals and dreams. In UWA I ran workshops on creativity, inspiration, motivation and how meditation could assist with that. I'm also in the process of organising a meditation event with Propel Youth Arts for their Kickstart Festival. I'm hoping to get some young musicians and sound practioners on board as well for this event to show case their talent.
The newly created website for The Sit is : https://amsha012.wixsite.com/sitwithamsha
The facebook page for The Sit is : https://www.facebook.com/AmshaYogaraj
What would you say to someone who is thinking about becoming a meditation teacher?
I would say don't be afraid to take the leap. When I enrolled in the teaching course, I had an inkling that it would be the best investment I made on myself, my growth and it was a way to give back and make a difference in someone else's life as well even in a small way. A year from then, I think this to be true and I only see it as growth and making my life more meaningful. I've learnt skills that I've been able to incorporate in my day to day and other work as well.

What have you enjoyed about studying with ACMM?
I enjoyed learning about the variety of meditation techniques which further motivated me to learn more. Another enjoyable aspect was being guided by our own meditation teachers and getting to guide our own meditations when we were assigned a buddy. This was when I felt that I learnt the most and my learnings resonated more as we each shared our own experiences, thoughts and opinions on teaching meditation.