Meet Our ACMM Coaches – Morgan Jai-Morincome
When you enrol at ACMM you get your very on Meditation and Mindfulness Coach to support and mentor you along your journey!  This month we want to introduce you to ACMM Coach Morgan. Meditation has been a part of Morgan's life since she was a child and in this blog, she shares how she has navigated inner and outer obstacles to meditating and also offers some words of wisdom for emerging meditation teachers.
Hi Morgan! Tell us a little bit about yourself 
I live on Ngunnawal Country (Canberra) with my partner and two young adult sons who come and go. I spend a lot of time connecting and communing with nature in my garden and in wilder areas of bushland. I love creative expression in all its forms and travelling to, discovering and experiencing new places.
A lifelong learner means I also love reading, watching and participating in anything that deepens my understanding of any topic I feel intrigued by or passionate about.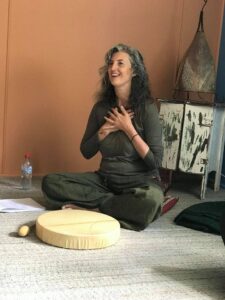 When did you start meditating and why?
I was introduced to meditation at around nine years old through my mother, who as a single parent took my brother and I with her to many different meditation classes, workshops and retreats as she begun to explore these practices for herself. She went on to train as a yoga and meditation teacher and I spent a lot of time in ashrams here in Australia and in India. I learned meditation from many different teachers through childhood and adolescence across a range of traditions including Hindu, Buddhist and nature based.
What does your current meditation practice look like
Mindfulness, self-compassion, imagery and nature connection all rolled into one!
What have been some of the benefits you have experienced from meditation?
I have experienced:
Connection with a felt sense of safety and stability in my body (nervous system self-regulation)
Self-compassion (understanding, acceptance and warmth towards myself and my life experiences which then flows out towards others)
A felt sense of inter-connectedness with all of life
Connection with the mystery, deep imagination and a well-spring of spontaneous creativity and feeling
What was the biggest challenge you have faced when meditating and what did you do to overcome it or manage it?
When I had young kids it was challenging to carve out time, space and energy. Luckily I had a very supportive partner who understood the importance of my practice for me and was a hands on parent which enabled me to maintain a daily practice as often as possible. I needed to stay very flexible around the timing each day of my practice and prioritize it over some other things that just had to wait (e.g. mess).
I have also experienced inner obstacles to doing things that are good for me. In the past, more so before self-compassion was an integral part of my practice, a part of me would want to avoid the practice in the same way as exercise. These days this happens less because of the depth of compassion that is available to me when I practice. I know that it will be a safe place to land where all the parts of me will be welcomed and met with understanding, acceptance and warmth.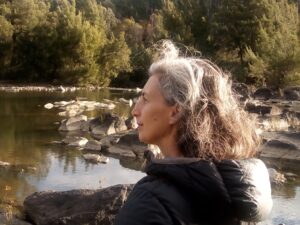 Can you tell us who your favourite meditation teachers or mentors are?
Since I started so young there have been many influences on me yet as an older adult Tara Brach holds a special place in my heart because of the depth of compassion she expresses through her guidance and her ability to communicate complex psychological and emotional dynamics with such clarity and humanity. On a personal level and professionally as a depth psychotherapist I have learned so much from the way she guides and teaches.
How have you used meditation and mindfulness in your own business?
I have a background in improvisational voice and movement and have facilitated seasonal vocal sound ceremony circles for women for many years.
I am continuing to deepen my experiential knowledge of facilitating nature connection practices and look forward to offering what emerges out of this in the next year or so.
In my private psychotherapy practice depending on who I am working with, there may be elements of mindfulness, self-compassion, nature based and spontaneous imagery practices as part of the session to bring awareness to and exploration of what lies beneath the surface.
What do you love most about being a coach at ACMM?
Supporting people to develop and deepen their own practice for themselves first and then as the foundation for the expression of the gifts they bring to their work with others as a meditation guide, teacher and/or facilitator.
What supportive words would you say to a new meditation teacher?
If I were to share some wisdom I have learned from my lived experience I might say … follow your own instincts … the direction that you feel called to go in … the one with the most energy for you … share with others what you have learned as if you were offering a gift (because you are). We are all lifelong learners and as you continue to learn, grow and develop your self-understanding and skills, your offerings will organically change along with you. Remember your 'why' … your intention for why guiding meditation feels important to you and stay close to that intention as you go about cultivating and sharing your creations and offerings.
Where do we go if we want to attend one of your classes?
I offer Depth Psychotherapy, meditation and mindfulness (in person and online):
https://www.facebook.com/sacredinnerwild/