Highlighting Our Students & Graduates – Jack Walker
This month we want you to meet ACMM graduate Jack Walker! Jack was led to meditation to help "get rid" his anxiety but found that meditation offered him a new and more supportive approach. He leads projects that prevent harm to the environment and human health, and has started his own meditation teaching and mentorship business.

Continue reading to learn more about Jack's journey:
Hi Jack! Tell us a little bit about yourself
I live east of Melbourne, near the Dandenong Ranges, with my partner and our chocolate labradoodle. I love anything that evokes curiosity, stimulates creativity, fosters connection, fuels philosophy, or encourages fun.
I have a Bachelor of Business and a Certificate in Guiding and Teaching Meditation and Mindfulness. For work, I lead projects that prevent harm to the environment and human health, and I've started a meditation teaching and mentorship business.
What attracted you to become a meditation teacher and study with ACMM?
I've been meditating for about nine years. During pandemic lockdowns, I started offering group meditation sessions for my co-workers, and a few people encouraged me to become a meditation teacher.
It took me a while to act on this — I wasn't sure if I was accomplished enough. I came to realise teaching is itself a practice, and felt I was ready to begin that journey. It was clear that ACMM offered a comprehensive and legitimate qualification with flexible study options.
How has meditation impacted you on a personal level?
I first started meditating in the hope of ridding myself of anxiety. Eventually I learned that meditation isn't about "fixing" myself — but there certainly are noticeable benefits to practice, including:
Higher chance of noticing my unhelpful patterns in real time, and choosing a more skilful response.
Increased sense of patience and compassion for self and others.
Greater capacity to let difficult feelings come and go.
What does your personal meditation practice look like? What styles or types of meditation do you enjoy?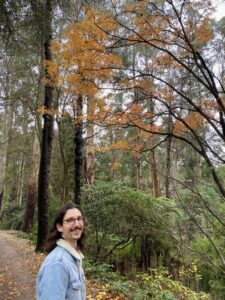 My preference is to meditate in the morning — before bed as well if I can find the time. I play with a range of techniques, both guided and self-guided. Some personal favourites are grounding, body relaxation, and emotion processing.
Maintaining a consistent practice can be difficult! If I'm feeling resistance towards sitting down to meditate, I'll bring my awareness to that. I think the most important thing is to integrate meditation and mindfulness throughout my day — not to treat meditation as a chore to be ticked off.
Do you have your own meditation/mindfulness/holistic business, plans to start one?
Meadow Mind is my meditation teaching and mentorship business. Whether you're looking to establish a new meditation practice, or deepen your existing practice with guidance, Meadow Mind caters to all experience levels. Operating online (and face-to-face in Melbourne), my offerings include:
Individual:
Meditation training short-course
Meditation mentorship
Group:
Guided meditation sessions
Men's meditation circle
Workplace meditation workshops
I'm running a free, online, 45-minute workshop on Wednesday 22 November 2023 at 8pm. The workshop will include a guided meditation and learning a technique for grounding. I'm also offering an Early Bird Discount on meditation training short-courses signed up for until end of November 2023. Head to
@meadow__mind on Instagram to express your interest, or email info.meadowmind@gmail.com
What would you say to someone thinking of becoming a meditation teacher?
I think it's important to reflect on where you are in your own meditation practice, what is drawing you to teach, and what might be holding you back. Remember that a teacher is not meant to be perfect — showing vulnerability is helpful to others. If teaching feels like a good pathway for you to explore, I'd encourage you to see where it takes you.
What have you enjoyed about studying with ACMM?
I've most enjoyed expanding my meditation practice by experimenting with the vast range of techniques and styles I was introduced to. Exploring creative ways to phrase my guidance when leading a meditation was another highlight. I also appreciated the feedback and encouragement from my coach, Leanne, which helped affirm that I was ready to become a teacher.
Jack's details:
Instagram @meadow__mind
Email info.meadowmind@gmail.com
We provide Teaching Certification right up to Diploma and Masters level training that includes supervision. A range of post graduate training options and support, are also available, including our Community Work Placement Program and Business Lounge Program which supports new meditation teachers to begin or expand their teaching practice. Download a prospectus for all the details.