Description
To take care of others, start by taking care of yourself. Reset your inner compass with this deeply nurturing guided at home experience. Enjoy this at 4-5 home self care meditation retreat and give yourself the nurturing time you deserve!
Do you feel depleted or exhausted?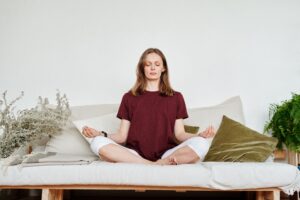 Perhaps you find it hard to make time for you?
In our busy world, it can be easy not to prioritize taking time to tend to our needs. Even when we do create time for ourselves, we can feel guilty that we are being selfish or not showing up for others.
Brené Brown, in her book The Gifts of Imperfection writes: "In a society that says, "Put yourself last," self-love and self acceptance are almost revolutionary." It is a reminder that self care involves extending the same concern and empathy for your needs that you offer others. When you fill your own cup, you can live with greater well-being and give from a place of abundance rather than depletion.
Are you ready to say 'YES' to yourself?
Join Sammy and Lauren for a sacred Sunday morning filled with practices to replenish your mental, emotional, and physical energy, and reinvigorate your self care practice. You will be guided through a self compassion inspired meditation practice, journaling, self massage and a restorative movement practice.
You will also learn technique to teach to others and experience how an online retreat can be conducted!
This At Home Self Care Mini Meditation Retreat enables you to enjoy the practices and teachings of an ACMM Retreat in your own time and space.
There is nothing better than creating a beautiful space to nurture yourself in your own home.
Find a special nook in your home where you can be alone for 4-5 hrs and immerse yourself in these beautiful experiences, or do a little at a time over several days.
ACMM Coaches Lauren Howe and Sammy Wynn, will guide you through a series of full length meditation practices, talks, journalling activities and a beautiful full length relaxation that you will come back to over and over again.
Enjoy

Journalling prompts
Deep validation and support
A full length grounding hug meditation
A deep, nurturing compassion based relaxation practice
A nature based experience for you to do at home.
All presented in a beautiful booklet for you to keep. You will come back to this retreat time and time again, whenever you need a sense of restoration and self care, and it will deliver!
Come back to it anytime you want some guided support and nurturing – and emerge refreshed and renewed!
At only $49, this is tremendous value. You will be able to use the recordings forever. Coaching support calls are also available at an additional cost. Suitable for all meditation levels.
Purchase the Self Care Retreat now.
"ACMM online retreats are a treat to attend. Like minded people coming together for an interactive day of meditation and learning. Lisa leads with such inspiration and the people attending are a delight to be with."
– Ed
If you would like to learn more about the power of online retreats, checkout our blog: The Amazing Benefits of an Online Retreat