A Week In The Life Of An ACMM Student
Want to know what to expect when you enrol as a student at ACMM?
In this week's blog three students share their real life experiences of being an ACMM student. From navigating study and meditation practice with children to full time work, our students come from a diverse range of backgrounds and highlight just how flexible studying with ACMM is!

Continue reading to find out more.
Mala, self alignment coach and parent
I am a mum of young kids so I work my meditation around them. I generally get up at 4am and start my day with meditation, and then I will dive straight into about 30 mins – 1 hour of study depending on time, my mood and if the kids wake up.
It's not a perfect system and I definitely don't do it every day but I love looking at it first thing, it's when I feel most fresh and excited to learn!
Susan, pharmaceutical representative in a career transition
Initially it seemed like I was studying and researching almost all week (full time job), I was taking it all very seriously! I think that was due to my previous career (pharmaceutical representative) and the fact that I hadn't studied or worked for 4 years. Because I had left work due to burnout, I honestly didn't know how I would go, but I was determined to do the very best that I could. I was totally committed!
Once I was able to relax and find my groove again, I found my routine evolved naturally for me.
Nic, full time senior executive producer
When I receive each new session, I read through the entire workbook, writing down a list of what I need to do. Then I divide this master list into sections of what I think I can achieve over a week. I created my own template list that includes important info, plus a section to tick off each task. I then print off a copy, ready for my session. I also use it to write down any questions I have for my coach as they arise, that way they're in one central spot when it comes time for my coaching call.
I usually carve out time for my meditation practice in the morning, savouring that time before the rest of the house wakes up. Either running my eyes over the mediation library and selecting a guided meditation that speaks to me or suits my mood for the day.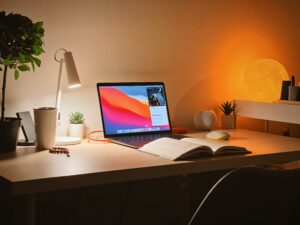 Otherwise, I will usually practice my own self guided meditation with a mantra. I'm grateful to do have an office space at home where I can pull out my mediation cushion and close the door.
Because I work full time, and commute to the city from The Blue Mountains I tend to do the majority of my course work on the weekends. It's also when I try and catch up with a friend to practice guiding with. My weekends also consist of 1-2 yoga classes which include a meditation component, so its nice to be guided. I'm usually left feeling really inspired and take down any notes in my phone that I can then call upon when I'm back in study mode. I've also recently joined a local mediation group early on Friday mornings which I'm loving.
My coaching call has to be one of the biggest motivators for me, I'm always left feeling inspired and exited about what's ahead. I can tend to overthink and be a little self critical so bouncing thoughts around with my coach really helps ground me and helps me stay focused on what's important.
Paige, high school teacher now life coach
I am currently working through Session 7 of the Advanced Certificate in Guiding and Teaching Meditation. I've certainly found a bit of a study groove since the beginning of the course, allowing myself an average of four weeks for each session.
One thing that is constant is a 20 minute meditation every morning before starting my day, followed by a 15-20 minute journaling session. This has become a non-negotiable since beginning this course.
The support that we get as students at ACMM is also fantastic. I have loved my coaching calls with my coach Lauren, and just being able to chat through my progress, as well as getting feedback about meditations that I write up have been one of my favourite things about this course. This really ensures that you are constantly looking back on how far you've come as well, and it creates a much more fulfilling experience, rather than it being just a course to rush and complete.
I like to say that this course is not just professional development to train you to become a meditation teacher, but it is also a personal development journey, which is so valuable!
We provide Basic Certification right up to Diploma level training that includes supervision. A range of post graduate training options and support, are also available, including our Business Lounge Program which supports new meditation teachers to begin or expand their teaching practice. Download a prospectus for all the details.