How do you get certified as a meditation teacher?
Do you love meditation and want to share it with others? Do you dream of teaching family, friends or colleagues empowering techniques that expand awareness, boost mental health, and improve relationships, but are not sure how to become certified to teach?
Teaching and guiding meditation is a wonderful and rewarding experience, especially when you can do it competently, confidently, and professionally, honouring the safety and wellbeing of those you guide and teach.
So, how do you get certified to teach meditation?
A Rewarding Career Path
Why teach meditation?
I remember the day I realised I could become a meditation teacher. It was joyous. To think I could study and be certified to teach others something I love and has been so helpful to me was a revelation and I revelled in it.
The idea I could teach wonderful meditative techniques that open up awareness, insight and healing in us, was and still is so exciting, and humbling, to me.
Exciting because anyone who has some form of meditation practice knows what a positive difference it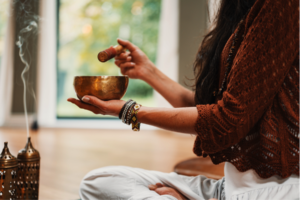 makes.
Humbling because to teach others is a bold pursuit! Meditation is such a powerful tool and is held in such awe, admiration, and gratitude you would want to do it and your students justice!
What if you got it 'wrong'?
Being a meditation teacher comes with responsibility. People put their trust and safety in your care, they come to you for aid, insight, transformation, and peace of mind. This is not something to take lightly.
The flip side of this responsibility is that meditation teaching is a rewarding and joyful privilege as you can assist the journey of self-awareness, development, and happiness for other people.
So, how can you honour the responsibility and enjoy the rewards?
The wise path is to become a qualified and registered aka certified meditation teacher.
Why is it important to be certified?
Certification allows you to access professional insurance, which is important to protect the public, yourself and your business and the standing of meditation in the community.
It also ensures that you are aware of how to support your students through the inevitable hiccups that arise in their practice, as well as being able to guide meditation in a professional and sensitive manner.
 Who certifies you?
To be a certified meditation teacher in Australia, you need to be a full member of the Meditation Association of Australia (MA) or IICT (International Institute of Complementary Therapists).
MA is the peak body for meditation teachers in Australia. Their role is to:
Set standards for meditation teaching and registered training courses
maintain a register of qualified meditation teachers, and
promote continuing professional development and ethical conduct.
To qualify for full MA membership, you need to complete either a MA registered meditation teacher training course or a Special Entry application, and verify that you have held a personal meditation practice for a minimum of 2 years.
There are different levels and categories of membership with MA, all of which can be read about here: https://meditationaustralia.org.au/membership/
The criteria for MA Membership can be viewed here: https://meditationaustralia.org.au/membership/criteria/
And more information about MA is here: https://meditationaustralia.org.au/aims-objectives/
Apply for MA Membership here: https://form.jotform.co/73116300130840
Let's break it down
MA registered meditation teacher training courses
Completing a MA registered teacher training course, plus at least 2 years of meditation practice, entitles you to register with MA as a meditation teacher thereby allowing you to acquire professional insurance and practice as a professional meditation teacher.

So which teacher training course should I choose?
When researching meditation teacher training courses, look for the MA Registered Training Course logo. This helps to identify if the course meets MA curriculum standards and thus qualifies you for MA membership.
When choosing your course, look for training that is thorough and produces confident graduates ready to guide and teach. Some considerations influencing your choice of course may include delivery mode (in person or online), length, cost, reviews, and graduate feedback.
Other important elements are the amount of mentoring support included, and some schools offer student membership to MA giving you an opportunity to experience MA support and resources before joining as a professional teacher. It is ideal to choose a teacher training course with personal meditation training and support to establish a regular meditation practice built into it.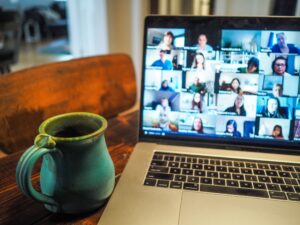 Special Entry MA Membership
If you are a meditation teacher but didn't complete a MA registered course, you may still be eligible for membership through a Special Entry application. You can contact MA here for further info – https://meditationaustralia.org.au/contact-us/
"… your training as a meditation teacher may come from a number of sources and the onus remains with you to ensure that the meditation teacher training you receive meets requirements for membership." (MA website)
Purchase Professional Insurance and you're set
Once you are registered with MA, you can access professional insurance to teach and guide meditation in any context.
Professional insurance cover for meditation teachers includes:
Professional Indemnity (PI) Insurance – PI provides cover to professionals, including their staff, against claims for financial loss arising out of an act, error or omission resulting from the conduct of your business.
Public Liability (PL) Insurance – PL will protect your business against claims arising from Personal Injury and/or Property Damage occurring in connection with your insured business activities.
Anything else to know?
So, now, you are a qualified meditation teacher with professional association membership and insurance, is there anything else you need to know?
It's important to appreciate that guided meditation is both an art and a science that can only be perfected through experience.
To become a competent teacher, you will not only need to be qualified and registered (ie certified), but you will also need confidence in practice and knowledge of meditation and mindfulness.
Once you begin teaching, it is a great idea to start receiving some supervision. This might mean reporting to a mentor on a regular basis and receiving their guidance with novel or challenging situations in your teaching.
Having this supervision available is a huge asset in your first year of teaching, and means that you always have someone to turn to for guidance and support.
Personal meditation practice for a minimum of 2 years
You will need at least 2 years of personal meditation practice to become a MA member and registered teacher. Beyond this requirement for MA membership and registration, your own meditation practice and experience is your best resource for teaching others. It is what you learn through your regular practice that will inform much of your teaching.
No one can authentically teach something they have not experienced and understand to some degree, themself.
Finally, once we are certified and begin to teach, we must never stop learning as meditation teachers. It is important to stay committed and open to the continuous process of investing in and trusting our own meditation practice, allowing the deepening, learning, and evolving to unfold over time.
What do you want to create? What would you like to share in relation to meditation? Why do you want to teach meditation? Let us know in the comments!
ACMM we are one of the leading providers of comprehensive and personalized Meditation Teacher Training. We are accredited with MA and our principal and course author, Lisa Forde, holds the position of vice president of MA.
We provide Basic Certification right up to Diploma level training that includes supervision. A range of post graduate training options and support, are also available, including our Business Lounge Program which supports new meditation teachers to begin or expand their teaching practice. Download a prospectus for all the details.
by Jen Hill (ACMM Coach)