Highlighting Our Students – Ramona Lane
2 min read. This month we say Hello to Ramona. She is an ACMM student based in near Bundaberg Queensland. Ramona chats to us about her meditation journey and her passion for creating and walking labyrinths.
Hi Ramona! Thanks so much for being willing to share in your learning journey. Tell us a little bit about yourself.
I live not far from the coast just east of Bundaberg in regional Queensland. My previous meditation teacher in the early 2000s told me after a class one night that I would be moving north to live (we lived at Tamborine south of Brisbane at the time). My reply was no I want to live somewhere cooler but, of course, the Universe had other ideas. We moved here in 2001 for my husband's work and this beautiful subtropical climate is now our forever home. We love it here; our 2.5 acres is 5 minutes from the beach and only a 20-minute drive into Bundaberg where I work part-time as a midwife at the local public hospital. We share our tiny home with our 18-month-old foxy/Jack Russell cross puppy, chooks, countless birds, water dragons and other wildlife. We have two children, 7 grandchildren, 1 great-grandchild with another bubba due early next year and they all live mere minutes away. So Christmas is a somewhat noisy affair!
Apart from my family and gardening, my absolute passion in life is labyrinths – walking them, holding ceremonies and rituals on them, drawing them in the sand at the beach and "walking" finger labyrinths.
What attracted you to become a study meditation and become a teacher?
Earlier this year, a chance comment by a friend about meditation had me thinking. I regularly walk labyrinths which is a walking meditation in itself but I thought that combining meditation classes with labyrinth walks would enhance the experience even further. So I walked a labyrinth at a local church seeking an answer as to should I study meditation teacher training. The very next day, after drawing a labyrinth on the beach, a young man came up to me to talk about his experience following his walk and he said "Do you hold meditation classes?" There was my answer. My search for where to study then commenced in earnest. I looked at lots of options but I really wanted an Australian based organisation and ACMM kept coming up in my searches. I poured over the website, watched all the videos, read reviews and sent off a few email enquiries. I received such helpful responses that I decided this was the one.
How has meditation impacted you on a personal level?
I started meditating in the 1990s when I was going through a particularly difficult time. My daughter who was living with us at the time found a meditation teacher and encouraged both myself and my husband to go to weekly classes with her. We did this and it was so positive for my mental health. I then discovered Sahaja Yoga meditation and on my very first night, after being so warmly welcomed by the teachers, I was sitting meditating and decided to open my eyes to have a peek. There was a photo of Sri Mataji on the altar in front of me and she literally winked at me and said: "it will all be okay". I knew then that meditation was exactly what I needed to be doing and I continued until we moved to Bundaberg.
What does your personal meditation practise look like? What styles or types of meditation do you enjoy?
I have a labyrinth on our property that I regularly walk and for some 6 years, this has been my form of meditation. However, I now meditate daily in my lounge room, sometimes continuing by walking the labyrinth immediately afterwards. I particularly love breath meditations and visualisations but I really love them all. Just sitting, focusing on my breath and feel whatever is going on in my body is such a gift. It is still sometimes a challenge to quieten my mind and on those days when that is just too difficult and distracting, I walk my labyrinth. By the time I have reached the Centre, my mind has become calm and the return walk really allows me to integrate my experience.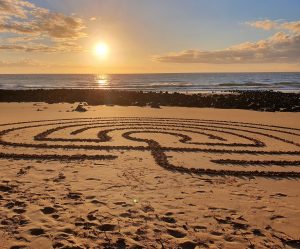 What are your plans for when you finish studying?
My business is Tara Labyrinth & Meditation. I hold regular walks at my labyrinth and intend to include meditation groups as part of those. I also conduct ceremonies/rituals for women who have reached milestones in their lives, whether it is a special birthday or transitioning into their wise woman-years. Recently, a friend and I drew a labyrinth on a local beach for International Day of Peace. A very short meditation on Peace was included as part of that walk.
As I currently work in the hospital setting, I see that meditation would be very beneficial not only for pregnant and postnatal women but for the sometimes very stressed staff as well. This is something that I am considering doing once I finish this course.
What have you enjoyed about studying with ACMM?
I really enjoy studying with ACMM. I won't say that it has always been easy thus far – in fact, at times, I have felt very challenged, particularly when it comes to actually writing the meditations. I am expecting (and hoping) that this will become less so as I progress. I love the assistance and help that is available, particularly from my coach and I really look forward to our Zoom sessions. No question is too hard and my coach has been able to help me put things into perspective and look at things a little differently at times. I knew that this study would be a journey but I did not realise just how big a journey of self-discovery it actually is. I attended the one-day virtual retreat recently and felt as though I had actually been away somewhere else other than my home. I can't wait to attend an in-person retreat.
I am looking forward to completing my studies and combining my love and passion for labyrinths with my love and passion for meditation.
If Ramona's journey inspires you to learn more about becoming a meditation teacher, please see our helpful article The Definitive Guide to Becoming a Meditation Teacher. If you'd like to learn more about the courses we offer, please visit our Courses page.