Highlighting Our Graduates: Frida Soerensen
 Congratulations on becoming a Meditation Teaching Graduate! Tell us a bit about yourself..
I'm an international meditation graduate, having recently moved back to my home town in the Northern part of the Philippines. Prior to that, I lived for 14 years in Australia, working as a social worker. I live on a family compound with my grandmother, nephews, cousin as well as my partner Dan and my cat Tyga.
I'm passionate about living a life that is true to my values, a life that encourages kindness, compassion and living more mindfully and sustainably on the planet. I am passionate about my family, helping to raise my nephews and nieces and continuing to build on what my parents started on our beautiful one hectare property. This year I opened La Casita Yoga and Meditation Studio where I hope to run more free wellness events for the community including Yoga and Meditation classes.
What attracted you to become a meditation teacher and study with ACHS?
Having been a social worker and suffering from stress and anxiety myself I started to bring in mindfulness and meditation techniques when supervising staff as well as working with clients. I was eventually allowed to run weekly mindfulness & meditation sessions with staff  and sharing the practices that had been invaluable to me. It became important to me encourage those working in this profession to to prioritise their own self-care and well-being for a change. It was in running these sessions, that I realised that this is what I wanted to do as a career.
Having moved overseas, I began searching for an online course that would give me more personalised support that included one- on- one coaching and flexibility –  and thankfully found ACMM! It really allowed me to gain a qualification that I otherwise wouldn't have access to living in the Philippines.
How has meditation impacted you on a personal level?
Meditation has taught me first and foremost listen to myself. It taught me to be more gentle and compassionate to what I experience as a human being. The journey to self-love is still long, but I feel everyday I'm taking steps. This means becoming more self-aware and taking more ownership with how I react to people and situations rather than blaming external circumstances. This has improved my relationships with others a lot, as patience and kindness feel more accessible. A daily practice and the ACMM course has given me the confidence and resilience to deal with difficult thoughts, emotions and situations and has reaffirmed for me, the importance of allowing heart and intuition to guide what steps to take next on this path.
What does your personal meditation practice look like? Are there any particular types of meditation you enjoy?
My routine can vary a lot, but what has always stuck to me is Tara Brach's words, "Practice everyday no matter what". My morning ritual is my most loved routine. Most days I can usually do a 20-30 min meditation and sometimes this is a combination of Yoga movements and breath. Other times I have time to do a 20 min meditation and 20-30 min yoga. These are the best days! Most evenings I do a guided body relaxation or sleep meditation.
I enjoy love insight meditations, meditations that help bring awareness to difficult emotions such as the RAIN technique, mindfulness meditations such as body awareness, the likes of Jon Kabat Zinn and Jack Kornfield. Sometimes when I just want to relax and feel the body I just follow the breath and see where it takes me.
Do you have your own  business, plans to start one?
I'm planning to set up a business at the beginning of next year, which will hopefully be "Wellness with Frida". Services will include Yoga Programs for both adults and children, Mindfulness, Meditation and Yoga workshops and Stress Management Training.
At the start of the year I opened La Casita Yoga & Meditation Space on my family property. As part of this I'm hoping to offer free Yoga and Meditation sessions and community wellness events for the people in my town. I have run a couple of free events so far and slowly introducing these practices to locals, but I'm yet to find the courage to offer regular classes!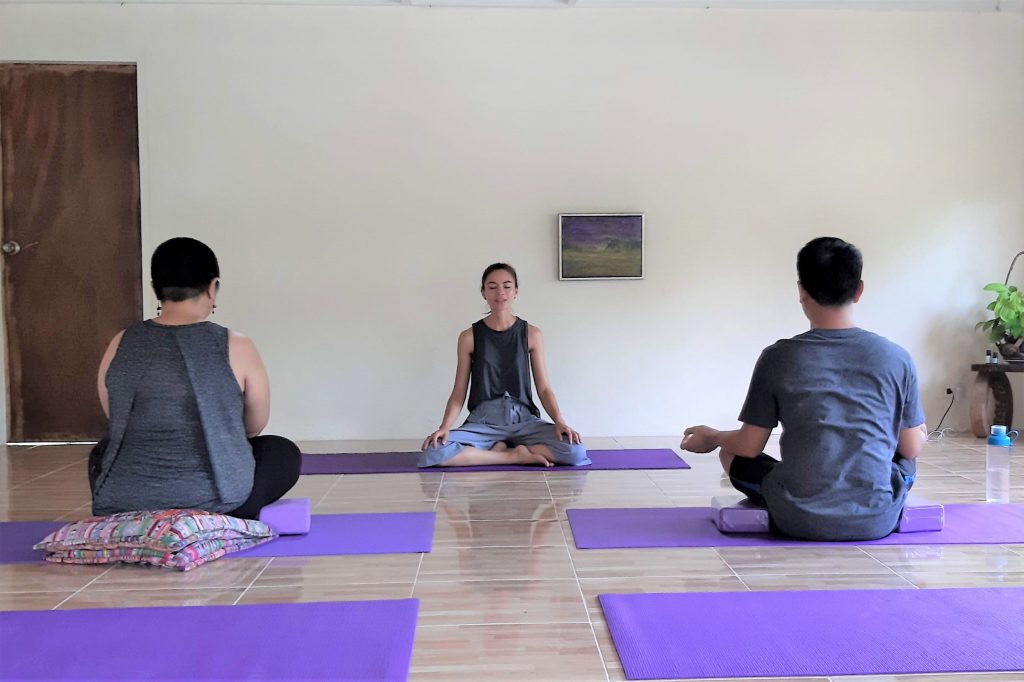 Can you describe your client base?
My clients tend to be women aged between 30- 50 years. Most are professionals working full-time. Many are in the medical profession, are business owners or office workers living in the city. I love working with this group as they are eager to learn and to improve their overall well-being. They are often very compassionate and aware of social and environmental issues. However, I would really love to reach out to the women who are in a lower socioeconomic ladder, who don't have access to these practices. Many women in my community are young, single mothers. They are often unemployed, and rely on their families or their husband for financial support. They have very little access to information around health and wellness.
Another group I'm also very passionate about working with is children. I'd love to bring yoga and meditation into local schools. A very high number of Filipino parents are currently working overseas. This often means  a huge number of Filipino children are left behind to be raised by other family members. In our community we see a lot of these children lacking parental guidance. This ultimately leads to  behavioural issues at school.  Bringing Meditation and Yoga to children in my community would support the development of kids. It would help them build resilience, compassion, focus and social awareness etc.!
Do you have any events, workshops or classes coming up in the next few months?
Oh yes I do! But all here in the Philippines. I am trialing a Yoga and Meditation Program for kids in January next year.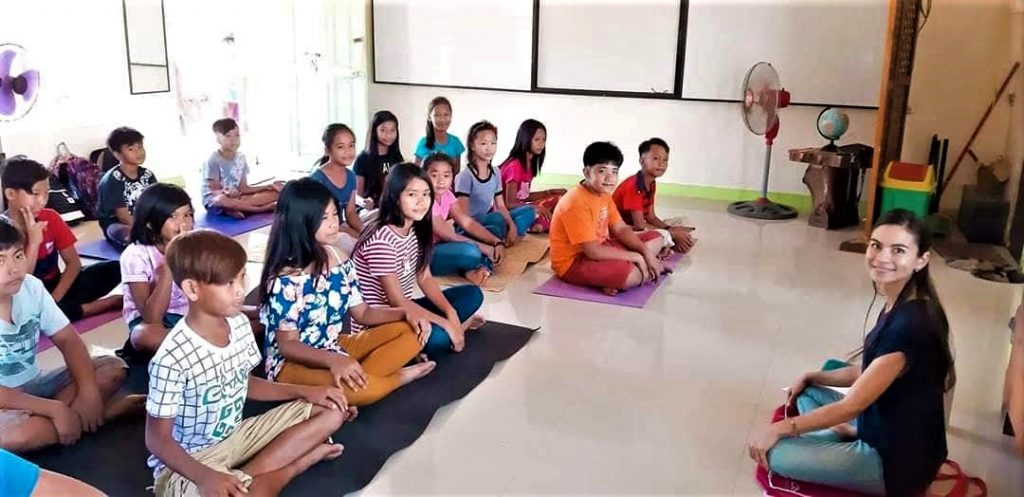 What would you say to someone who is thinking about becoming a meditation teacher?
Do it! Even if teaching turns out not to be for you, the skills and self-development you gain will benefit you for life. Teaching meditation is an opportunity to have a career that not only supports others, but supports and nurtures you.
What have you enjoyed about studying with ACMM?
I have absolutely loved the creativity, compassion and whole-heartedness that is the teaching style of Lisa and the coaches. During the course I felt thoroughly nurtured and supported by this community. I was also very lucky to attend the September Retreat this year!
The self-development that happens in this course is magic. I really loved the emphasis on creativity, connecting to your intuition and the inner child.
A BIG thanks to Frida for sharing her journey.
While you're here, meet some of our other meditation teacher graduates . Last month, we spoke to Lisa Tregenza