Highlighting Our Students – Stacey Anderson
3 min read. We love this time of the month when we get to introduce you to someone in our student community. This month we chat to Stacey Anderson, who works with Seeing Eye Dogs with Vision Australia. She is a wonderful example of the very different, and broad pathways a qualification in meditation and mindfulness can take you on.
Hi Stacey. Tell us a little bit about yourself…
I live in Melbourne with my partner and two budgie boys Phoenix and Pegasus.  I arrived in Melbourne six years ago now from my homeland of bonnie Scotland.  Originally, I had planned on travelling Australia to then go and live in New Zealand. But I never left Melbourne after meeting my partner who is also from Europe, and landing a job where I was able to get a sponsorship visa.  I am now a Melburnian/Scotch hybrid (also known as a Scozzie), and have my permanent resident visa.
While I plan to stay here and become an Australian citizen soon, I so miss my family.  I'm the proud sibling to my sixteen-year-old sister and determined to be the best role model I can be for her. The most important and influential person in my life is my Dai (Grand-father) who sadly passed when I was eighteen years old.  He showed me what unconditional love really is, and is my greatest anchor and role model in life. I am also very close to my Gran. Her stereotypical Scottish stoicism and positive attitude inspires me.
My passion is in finding my purpose and I've always felt that this is intertwined with my love of animals.  I had aspired to work with animals all the way through my school years, although I didn't quite know in which capacity.  Life didn't work out the way I'd intended, and I found myself falling into a hairdressing apprenticeship at the age of sixteen, which continued into my mid-twenties.  My aspirations of working with animals never faded and after a few years of working as a hairdresser, I decided to chase my dreams and left my hairdressing career to study animal care.   Fast forward eleven years later and my dream of working with animals has evolved into creating a symbiotic way of connecting with our animal companions. I believe I have found this through meditation and mindfulness.
Are you working whilst studying to become and meditation and mindfulness teacher?
Currently, I work for Vision Australia as a Kennel Attendant caring for the needs of the dogs and young pups that are in the programme to potentially become a Seeing Eye Dogs.  I also foster dogs from work and bring them home with me on a regular basis.  Recently, I applied to become a breeder carer which means that I will care for a breeding female, whilst they are in the breeding programme.  I feel very lucky and blessed to have such an amazing day job!
What attracted you to study with ACMM?
I was drawn to meditation and mindfulness when searching for ways to manage my own mental health and become more present in my life.  I had tried a few guided meditations but struggled to build a daily practice.  After searching different meditation courses, I was drawn to ACMM and saw their teacher training certification.  I decided to go all-in and signed up to study to become a meditation teacher.  It has been one of the best decisions I've ever made!!
How has meditation impacted you on a personal level?
Meditation has impacted my life greatly and on many different levels, and will continue to do so for the rest of my life.  It's been a gradual process and not always an easy one at times. However, I genuinely feel that it is helping me to live the life that I desire, which is a life of presence and growth.  A quote that sums this up for me is by Joseph Campbell when he says, "I don't believe people are looking for the meaning of life, as much as they are looking for the experience of being alive", and this is what meditation does for me, it helps me to experience all the parts of life and to truly feel alive!
What does your personal meditation practise look like? What styles or types of meditation do you enjoy?
I enjoyed learning all the styles and techniques of meditation in the ACMM course, but I particularly enjoy mantra and sound meditation and incorporate these in my daily practice.  My daily meditation takes place every morning before I start my day.  I generally focus on grounding and then a mantra or affirmations.  On my days off from work, I like to do a sound meditation as a way of relaxing, and will regularly join online meditation classes to sample other people's styles of meditation.
Do you have plans to start a business? If so tell us about it and how meditation is a part of this.
There has always been a burning passion deep inside me to bring humans and animals together. This was always my vision but I didn't quite know how.  I had heard of Animal-assisted therapy which is based upon building a bond with an animal. This is carried out through interaction and play as a treatment in psychotherapy. I felt that the same benefits could be gained from meditating with an animal.  There are so many ways in which people can incorporate meditation and mindfulness with their animal companions that will enrich the quality of both their lives.  Our animal companions, and working animals, deserve our presence as they continually gift us with theirs, and this is my inspiration for my business.
This year has catapulted me into creating my own meditation business due to opportunities arising through my workplace.   After completing the core course work, I asked a few of my case study participants to be my "guinea pigs" and test the theory of meditating with dogs using the dogs that we work with.  This led to an offer being presented to me to do a webinar for Vision Australia where I speak about the benefits of meditating and using mindfulness with animal companions and dog guides.  I hope that this webinar will open doors and create opportunities for me to teach meditation and mindfulness classes to staff and clients in the future.  My business name is Paws and Be Present! Watch this space!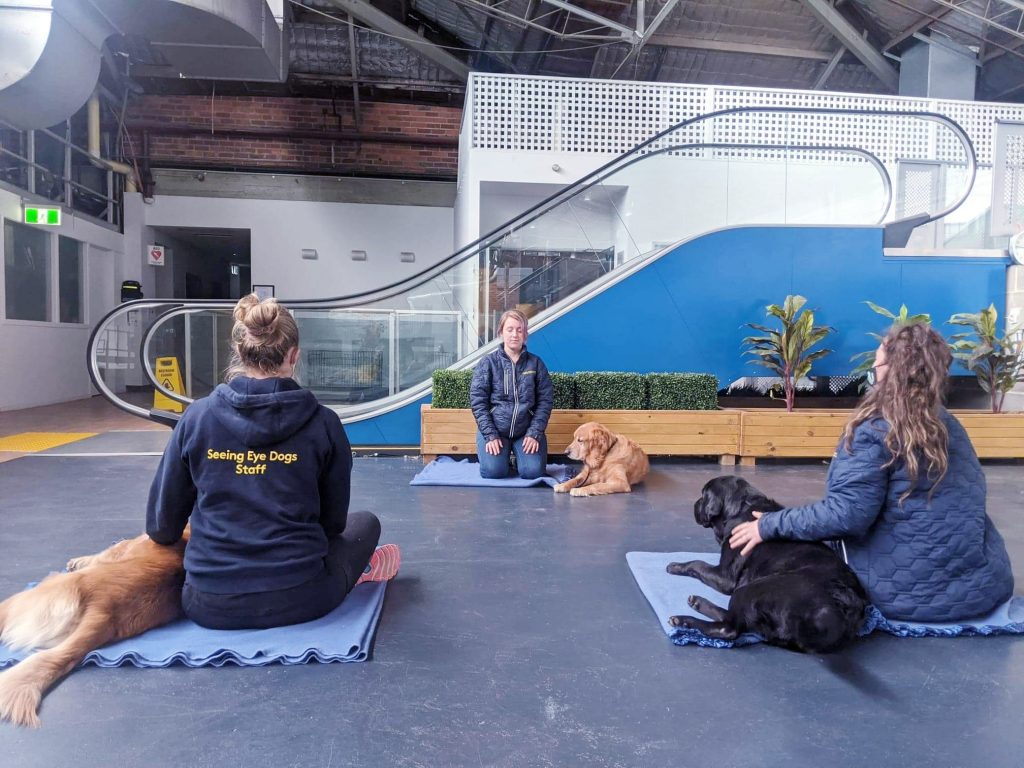 Once you finish your studies, do you know who do you want to work with/inspire/support and why?
I have many ideas of where I want to go with my business!. I think it will grow organically as I grow through experience.  Right now,  I'm completing the elective in meditation to support pain, grief and dying. It's inspiring me to develop a meditation programme that supports people going through the process of caring for a sick, elderly or dying animal companion.  This is something I am passionate about and saw the need for when working in the veterinary care industry.  I would like to support and inspire people who want to become more present. Not only in their own life, but also in their relationships with their animal companions.
What are you enjoying about studying with ACMM?
I love the variety and quality of meditation teachings. They have helped me grow personally and professionally.  The core coursework gives you a solid foundation and framework to guide you in creating your own meditations.   I've attended one face to face retreat, and two online retreats to date.  They have been a great investment both personally and professionally.  I find that they are a sacred space for learning, sharing and developing. Not to mention,  a great way to connect with fellow students and coaches.   It;s my intention to complete the Diploma next year, and also the mental health and wellbeing stream.  It's my hope to be to studying with ACMM for long time!!
We really look forward to watching Stacey's business take shape over the coming years. If you would like to hear from another one of our students, check out our interview with Teresa Greenow.
If you are inspired to learn more about becoming a meditation teacher, please see our helpful article The Definitive Guide to Becoming a Meditation Teacher. If you'd like to learn more about the courses we offer, please visit our Courses page.