How much should you charge for a meditation class?
Starting your own meditation classes can be an exciting time. A chance for you to share your wonderful talent and energy with the world.
Whilst there is much excitement in the air, starting your own meditation classes may also require some additional thought around how much you would like to charge for your services. Pricing a service based offer may seem tricky to start with, however, it can be made a little easier with some forward planning.
Initially when starting you may like to first consider if you will indeed charge for your classes
You may decide to start your classes for free on a trial basis while your business is growing, or if you have volunteered your services for a community organisation you may offer a class for free as a goodwill gesture. Whether to charge or not is personal preference and it's best to do what resonates for you.
Having said that, remember your time is valuable and if you decide to charge for your classes, there's a few things you may like to consider which can make the process of determining your class prices a little easier.
Research is key
You may like to start by doing some research of similar services in your local area. It's a great idea to see what other wellness professionals are charging to ensure that your fee is in line with the market rate.
You could start by looking at your local Yoga studio:
How much do they charge for a class?
What is their pricing structure?
Do they have a separate fee for casual class bookings, or do they offer a discounted rate for class passes?
What is the length of their classes and do they offer any other inclusions as part of their fee?
Understanding your local market is key when considering your class prices.
Out of pocket expenses
Following your research of local studios and wellness providers, you may like to note down the out-of-pocket expenses that you will incur to run your meditation class. Will you be hiring a community hall, paying a Yoga studio for their space or will you be running classes online? Will you need to pay to advertise your classes and will you be charged a booking fee if using an online booking platform such as Eventbrite? Other out-of-pocket expenses you may like to consider when starting your classes are materials such as: mats, bolsters, eye pillows, blankets, and any other supplies. All of these will be an initial expense to you, and if you intend to provide these to your students free of charge, this may allow you to charge a little more for your classes.
Class length and inclusions
Next, consider the length of your class. Is your class going to be a 35 minute class for beginners or is it going to be a lengthier class that includes a longer meditation and potentially other additions such as a women's circle, tea facilities or group journaling time? These factors will affect the price that you are able to charge for each class. Shorter classes may be less as they require less of your time, whereas lengthier classes may demand a higher fee.
Hourly rate
Once you've considered the length of your class you may like to decide on what you'd personally like your hourly rate to be after you've accounted for all your expenses (as mentioned above). The Meditation Association of Australia* notes that a suggested hourly rate for a recent graduate is $100 per hour. Keep in mind this rate is for a private consultation, however as an example if you decide to set this as your hourly rate when running a class, you may find that to achieve this desired rate you would need 10 attendees in your class, all paying $20 per class ($100 goes to you and $100 goes to your out-of-pocket-expenses).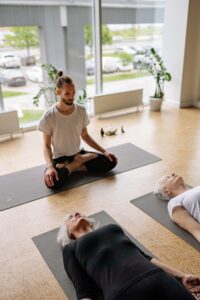 Of course, it can often be impossible to know ahead of time how many people will book in to attend your class so it's important to account for this also. You can do this by adding a small additional amount per head to build in a contingency for the potential of less bookings, or by offering a pricing structure that provides more certainty of weekly numbers such as upfront class passes.
It's also helpful to keep in mind that your hourly rate will realistically not only include your time teaching but the time to plan, prepare and advertise your class which will all take additional time.
Casual bookings or class passes
If you are planning to run weekly classes you may like to consider offering class passes. Often, casual bookings can be charged at a higher price creating an incentive to attendees to buy a class pass at a reduced rate. For example, you may charge casual bookings at $20 per class and offer a 5-class pass at a discounted rate of $90. Offering class passes is a great way to build consistency with attendance numbers.
Target market
Finally, it's important to consider your audience and target market. For example, if you will be running weekly online classes for a corporate client your fee for this class may be different to the fee you charge for members of your local community who may have different budget constraints. You may charge a flat fee for a corporate client based on your hourly rate and you may choose a price per head structure for weekly classes in your local community.
With all those points in mind, it's important to always remember that you should charge what feels comfortable for you. The beauty of running your own groups is that you get to decide how they will be run and how much you will charge. You are the creator of your offer!
Like anything in business it may take some time to get your pricing structure right and that's okay.
The most important thing to remember is to have fun and enjoy sharing your beautiful gift with the world.
by Sammy Wynn (ACMM Coach)