Highlighting Our Graduates – Jacqui Mulholland
It's our favourite time of the month where we get to chat with one of our graduates! This month, we chat with Jacqui Mulholland – meditation teacher, massage therapist,  and reiki practitioner based in Mitcham  She incorporates her meditation and mindfulness qualifications beautifully into her holistic wellness business. Read on to learn more about what she is doing and how she got there!
Hi Jacqui! Tell us a little bit about yourself…
I live in Rowville with my 3 beautiful children who keep me very grounded and honest. For the past 17 years, I have worked as a natural therapist, specialising in remedial massage. I have had my own massage business for 17 years and currently have a private practice in Mitcham. My passion for holistic wellness led me to study and practice yoga, meditation and more recently Qigong and more active forms of meditation.
What attracted you to become a meditation teacher and study with ACMM?
I was drawn to ACMM immediately, Lisa's presence and passion for what she teaches really resonated with me. I love the flexibility of study options because I had a young family and work commitments. The self-paced study and the personal guidance of a coach really appealed to me. The depth of content, experience and the holistic approach to meditation as well as assistance with the development of your own personal practice along with practical teaching skill were perfect for me! I loved how your own personal vision and unique direction as a teacher was nurtured and supported along the way, giving you full autonomy and control over what you choose to offer as a teacher.
How has meditation impacted you on a personal level – what are the benefits you have seen?
I have so much more self-compassion and love for myself. It has taken me on a journey and opened up my awareness of my own spirituality and the practices that support and nurture my soul. I have been given so many gifts from meditation. More than I ever thought possible, and it just keeps on giving! More awareness, more love, more patience, more empathy and a greater appreciation for beauty, nature and kindness of others. The lessons and the blessings are endless and that is why I am dedicated to my own personal practice.
What does your personal meditation practice look like? What styles or types of meditation do you enjoy?
I meditate first thing in the morning, every day. I will take any opportunity to tune in and become aware throughout my day, at work or with my kids, when walking, cooking, cleaning, showering. Meditation has become part of everything I do. I love a walking meditation in nature, love attending a sound healing. Music or singing mantra meditation also brings me so much joy. I am fascinated by self-inquiry and insight meditations, as this opens up my mind to so many possibilities. And, I absolutely adore moving meditations like dance and Qigong. I feel so connected to my body, spirit and the Earth and I feel it is so incredibly healing on every level.
Tell us a little bit about your meditation business…
I have been running Shine Meditation for 5 years now, teaching many styles of meditation over that time. I've taught so many things – workshops, sitting groups, teen retreats, corporate mindfulness, women's health & Reiki sessions, one on one meditations, children's meditation at kindergartens and schools, online zoom and live moving meditations. I have also taught in yoga studios, and community centres.
During 2020 I went online and was running an online meditation group on zoom.
This year I am running a Move & Meditate class in Mitcham where we explore different forms of moving meditation to enhance connection and inner stillness. Using Qigong, yin yoga and tantra yoga as well as other techniques to explore movements and dissolve energetic blockages and awaken the spirit.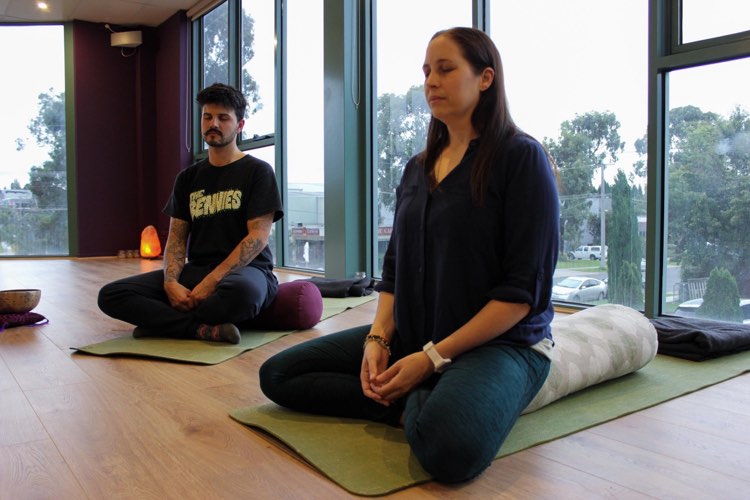 How does your meditation teaching skills complement the work you are doing in your current job?
I am currently running therapist wellbeing programs for Endota Day Spa (where I also work as a senior remedial therapist). These programs incorporate self-care techniques including meditation, mindful communication and body awareness. I am planning several workshops and training nights that focus on building awareness of mental health and wellbeing for therapists and clients.
Can you describe your client base?
My meditation offerings are open to everyone! Although, I predominately seem to attract women to my groups. Perhaps that is because I have been drawn to work in this space as I have a deep understanding and passion for women's health and the divine feminine. I am just as passionate about men's and children's health and wellbeing and I have worked with everyone, however, I feel women have really resonated with my work which brings me great satisfaction and joy.
I work with a range of age groups, from young adults to middle-aged and older. My groups are more suited to adults.
Do you have any events, workshops or classes coming up in the next few months?
I am running a Friday night Move & Meditate class during the school term. You can subscribe to the mailing list on my website, www.shinemeditation.com.au, to be kept up to date with events and workshops. You can also follow me on Facebook: Shine Meditation | Facebook or Instagram @shinemeditation 
What would you say to someone who is thinking about becoming a meditation teacher?
It is so hard to be able to describe the depth and awe you will experience when you decide to begin this journey to become a meditation teacher. All I can say from my experience is that it has been the best thing I've done for myself. It will open you up in ways you could never have imagined. To experiences, to deeper connections, to love of life! It is a leap of faith, but be sure the path ahead of you is so rich and diverse, you can do with it whatever you choose. This work is so incredibly rewarding and the community of people you meet on this journey are so amazing, supportive and so inspiring.
What have you enjoyed aboutt studying with ACMM?
I have loved the connections I've made with coaches, students and Lisa Forde. The retreats have been amazing.  They have given me the opportunity to meet so many beautiful soulful people face to face and practice together. I am continually inspired by students and graduates and the amazing work we are all doing. The whole community feels like my soul family. I am so blessed to have met each and every one of you!
We love to showcase the amazing stories of our graduates. Every one of them is unique and special. It brings us so much joy to see the different ways they are taking meditation and mindfulness out into the world.   Here are some other graduates we have spoken to recently: Meet Jen,  Meet Grace, Meet Ramona.