Highlighting our Graduates: Rachael Kable
All of our students bring a wealth of personal experience and passion to their studies. We are blessed to hear many stories of surviving and thriving thanks to their meditation practice, their studies and more.
Here is an interview with ACMM graduate Rachael Kable. Rachael has just published her first book, The Mindful Kind.  She has also run a very successful podcast of the same name which is on the Itunes charts. I'm sure you will enjoy and be inspired by learning more about Rachael's international success online as a meditation teacher.
Tell us a little bit about yourself 
I am currently living near Mount Beauty, which is a stunning place in the country-side of North East Victoria. My fiancé and I have two dogs, named Minnie and Moose, who are the funniest and sweetest little characters to have around.
My first book was published recently and I also host The Mindful Kind podcast, create digital meditations and write on my blog. Over the last 3.5 years, I've been slowly building my business to support people with stress management and help them implement mindfulness into their daily lives.
What attracted you to become a meditation teacher?
After studying psychology, coaching and counselling at university, I started my website and podcast to share my knowledge and help other people. I'd learned about mindfulness while volunteering on the Helpline at the Anxiety Recovery Centre for Victoria and I found it incredibly effective in managing my own stress and living a happier life with more connected relationships, better sleep, deeper fulfilment at work and greater enjoyment of my hobbies.
I naturally started guiding people to practise mindfulness techniques, but I really wanted to learn more about meditation in general and grow my confidence as a meditation and mindfulness teacher (which is why I signed up for my Advanced Certificate in Guiding and Teaching Meditation).
Being able to teach meditation is fulfilling in a number of ways for me; I get to be creative, I can use my skills online to reach new people, I'm always learning new things and I can share helpful ideas for people who want to create their own meditation practices.
How has meditation impacted you on a personal level?
Meditation is my space to explore my thoughts and feelings, to focus my attention on the present moment, to be creative and sometimes, to just breathe. Life can be really busy, so having this space is super important for many reasons. It helps me unwind so I can sleep better, allows me to process challenging emotions and encourages me to feel more calm and grounded. Sometimes, I find meditation really challenging. Sometimes, I can just relax and enjoy it. I never know what my experience will be and I find that really interesting.
What does your personal meditation practice look like? What styles or types of meditation do you enjoy?
I use a number of breathing techniques throughout the day, especially when I'm busy. I love creating small pockets of calmness just by tuning into my breath. I also regularly use mindfulness techniques to bring my mind into the present moment and observe what's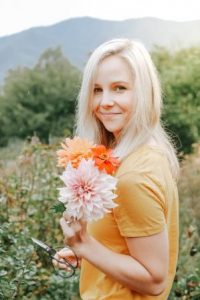 happening around me.
My favourite "formal" meditations tend to be visualisations, listening to meditation music, self-compassionately exploring emotions and doing body relaxations.
Do you have your own meditation business, or plans to start one? If so tell us about it and how meditation is a part of this.
My business is focused on empowering people with practical skills to manage stress and create more connection in their lives. I've created digital products, such as eBooks and meditation albums, and I host a podcast called The Mindful Kind and write articles for my blog. My goal is to develop some online courses, too (designed to help people practise mindfulness and meditation). I've also created some meditations for other companies, such as the Aware App.
I always thought I would learn how to guide meditations and then start running in-person meditation classes, but I found such a variety of ways to teach meditation online that feel great and take less of my introverted energy.
6. Can you describe your clients? Who do you want to work with and why?
My client base tends to be younger women, but my work isn't created for anyone specific. I love hearing that men, teenagers and older people resonate with what I do. I think younger women tend to find me through word of mouth and social media more so than other people, which is why they make up the majority of my client base.
I've been really lucky that my podcast hit the iTunes charts in a number of different countries, which has allowed many people living on the other side of the world to find my work.
7. Do you have any events, workshops or classes coming up in the next few months? 
My book and digital meditation albums are available via my website at: http://www.rachaelkable.com/shop
My book was published in February 2019, which was really exciting! It's about mindfulness for wellbeing in the modern world and includes chapters on mindfulness for relationships, work, self-care, and more.
I have two meditation albums so far – one is designed to facilitate self-compassion and the other helps people meditate in the mornings. My partner created the relaxing music for each track and it was a great way to collaborate using both our skills and knowledge (his in music and mine in meditation).
8. What would you say to someone who is thinking about becoming a meditation teacher?
Completing my Advanced Certificate helped me learn so much more about meditation and encouraged me to try new techniques and create a regular meditation practice for myself. If you want to confidently guide meditations (without a script), learn alongside like-minded students, be guided by wonderful mentors and learn about different types of meditation, this would be a great course for you. Make sure you can commit to the study and learn as much as you can along the way!
Thank you so much for sharing with us Rachael Kable, and we wish you continued success with The Mindful Kind book, your podcast and all future adventures!
Thank you for choosing ACMM as your training provider!