Highlighting Our Students – Jenny Guerrero
This month we get to share with you another one of our amazing students! Meet Jenny Guerrero. Originally from Colombia, Jenny who is now in Sydney, shares her meditation journey and how she now teaches meditation and mindfulness techniques to parents and children! 
Hi Jenny! Tell us a little bit about yourself…
I am Jenny Guerrero, originally from Colombia, and have lived here in Sydney with my family for the past 8 years. Out of my deep connection with nature, I made Sydney reserves a second home and take pictures of wild flowers all around Sydney and even in the surrounding reserves of Melbourne. I find stillness and joy in doing it.
Perhaps, I would like to share a story that gives meaning to the connection I have with nature and the simplicity of life: I grew up between my grandparents' farm and the big city. When I was a teenager, I lived almost like an ascetic for 9 months in that farm, helping my parents to take care of their share. I didn't have electricity and it was also up to 40°C all year round. The water came from a water spring up in the hill. All I had was my horse, my best friend and companion. Instead of giving me discomfort, the time I lived there gave me a sense of freedom and joy.
To meet my needs of play and physical well-being, I practice Aikido, yoga and I also do gardening. I love dancing, exploring new trends in modern music, and I also create my own style of music through computer mixing and singing.
What attracted you to become a meditation teacher and study with ACMM?
As I studied to develop new skills to teach kids mindfulness and relaxation techniques, I realised I wanted to pursue a certificate in meditation. However, of the many courses I checked, none of them got a click in me, until I read about ACMM and that was it, that was what I needed, mindfulness and meditation together in with a flexible curriculum to study at your own pace. I followed my intuition, and this decision took me to an amazing and enriching journey, opening new doors for a better understanding of what mindfulness and meditation is.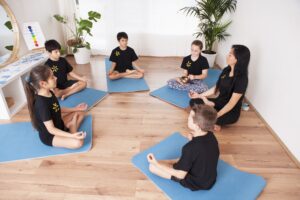 How has meditation impacted you on a personal level – what are the benefits you have seen?
Meditation permeates different areas in my life and the life of people I am surrounded with, I found the "pause" in it.
And from there, I started listening deeply from within my inner wisdom. I have created a space in my life to rest and let go, understanding and working on my compassion. Meditation is giving me presence in my daily activities, resting in the pause and allowing me to share it with family.
What does your personal meditation practice look like? What styles or types of meditation do you enjoy?
I practice it every day as my soul and body ask me to do so. I meditate mostly from invitations made by nature. It can be an amazing sunset through the window, a beautiful leaf growing in a pot in my living room or the sound of rain on a gloomy day. I invite my daughter to meditate with me too. I found that in it, we can both share with each other the same kind of language. One of the meditations I love the most is dancing meditation as my attention grows in awareness. Also, inquiry mediation as it elevates my soul in a very tender level. I see mindfulness in meditation gives an enormous value as it allows you to recognise what is truly happening in the now.
Do you have your own meditation/mindfulness/holistic business, plans to start one?
I created Smiling Light three years back when I was teaching relaxation classes for kids and I found out I wanted a deeper connection between parents and their children – I wanted them to be more involved with their kids' journey, so I began to work with mindfulness and meditation techniques. From there, I decided to create a program heavily focused on making awareness of the present moment. At the moment, I am adapting it to an online version. At the same time, I am working with women from different backgrounds on an online meditation community. These are my first meditation classes for adults.
Do you have any events, workshops or classes coming up in the next few months?
Yes, I have a primary meditation class for adults, I called Circle of Empathy, running on Saturdays at 5pm, Sydney time, and you can find more information at www.smilinglight.com.au.
What would you say to someone who is thinking about becoming a meditation teacher?
I would say: Follow your intuition towards the discovery of self-compassion and comprehension of love towards yourself, your environment and the others around you. Through this you can find light.
What have you enjoyed about studying with ACMM?
ACMM creates these wonderful spaces to learn at your own pace, while at the same time, you will intrinsically create this intense commitment that makes you feel so engaged with your studies, the connection with teachers and the love I received. This creates a deep sense of belonging, wanting to keep studying further. I appreciate so much being given the right tools to keep moving forward with my dream to help others in the way I started doing it.
Find more about Jenny here:
https://www.pinterest.com.au/jennysmilinglight/_created/