Highlighting Our Graduates: Lisa Tregenza
Meet Meditation Teacher Graduate, Lisa Tregenza, who's passion for meditation as an essential part of holistic health, has inspired her to create a beautiful holistic health and well-being business.
Tell us a little bit about yourself...
I live in the South East of Melbourne, in Berwick. I'm the eldest of four children to my loving parents and we're a very close family; some even nickname us the Brady Bunch!

By day, I work in an office and manage a team and assist customers. But, what I'm most passionate about is holistic health and wellness. Through having my own health problems over the years, I soon started on my own wellness journey to healing myself more naturally. This led me to start sharing all my knowledge on my own blog, which has evolved over time into what it is today.
What attracted you to become a meditation teacher and study with ACMM?…
I discovered meditation a few years ago when I was going through a tough time in my life.  I was trying to get myself – and my life – back on track. When I started practising meditation, it felt like a spiritual hug. It nurtured me in a way that I really needed at that time. I felt release and I felt lighter. Before I knew it I was practising a few times a week, along with yoga as well.
I knew that I had to share this with the world and I wanted everyone to experience the same thing as I had. It was too beautiful not to extend out to others! With that in mind, I researched certified schools that taught meditation teaching and that I could become qualified through in Australia. As I was working full time, it also had to be online or easily accessible to complete whilst working.
That's when I came across ACMM and I just knew they were the college that I needed to study at. I felt a pull to it that I hadn't felt by researching other schools and it felt right, so I enquired and enrolled not long after that.
How has meditation impacted you on a personal level?…
Meditation has allowed a space for inner healing, more than anything. It is a constant in life and is a great support for mind, body and spirit. It has greatly helped with anxiety that I have and help create a sense of calmness and ease that I hadn't felt before. The journey you go on during the course is so special and loving as well, it's unlike anything you've done before. There is so much support, understanding and encouragement, that I would love for everyone to be able to experience this.
What does your personal meditation practice look like? Tell us about the types of meditation do you enjoy…
My practice has evolved over time and I listen to my body to intuitively know what type of meditation I need and the duration I feel would be best. Some days it might be 5 minutes, other days it might be 30 or 40 minutes and it might be that I need to listen to a guided or visualisation meditation with music, and other times I simply enjoy sitting in silence, breathing and just being in the moment, in that energy and space.

I also find movement really powerful and such a great way to shift stagnant energy, release emotions and give you a boost of positive energy as well.

There are so many ways we can meditate and just being present where you are or by taking a nature walk can be really beneficial.
Tell us about your amazing meditation business…
I started Nurtured Meditation in late 2018 and it came to fruition when it was supposed to. It has slowly been blossoming like a flower. I've enjoyed watching it become what it is today, and look forward to seeing where it takes me. I have held classes and workshops on and off, as I just go with the flow.  A few months ago, I started a Podcast as well!

I wanted to be able to share meditation with everyone and make it easily accessible and had been wanting to start one for a long time and finally decided to give it a try, which I've actually really enjoyed.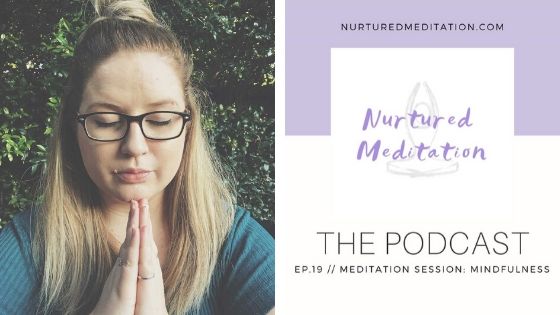 Is there a particular audience or group of people you are connecting with?…
My classes are open to anyone who wants to meditate.  I believe everyone should have access to it and learn how to start their own practice. I am also currently working on starting a special group for women. I'll be holding my first Women's Circle, which I'm looking forward to! It's so important for  women to support one another.  I really wanted to create a space to hold this in, that was sacred, loving and safe.
Tell us about any classes or events coming up…
To stay updated about classes and events, I suggest heading to nurturedmeditation.com.au and join the newsletter, as well as following at facebook.com/nurturedmeditation as I have new things happening all the time!
What would you say to someone who is thinking about becoming a meditation teacher?…
If you're thinking about becoming a meditation teacher, chances are your inner voice is to calling you! 
If you're looking for a course with more soul connection, one on one support and an abundance of guidance and motivation from fellow students, graduates and coaches, then look no further than ACMM. It will be the best decision you make! . You will learn and discover so much more about yourself and meditation.
Meditation is a beautiful thing. To share that with the world and guide others on their own journey.
If Lisa's journey has inspired you to consider becoming a meditation teacher, please visit our Courses page that outlines all the learning pathways available to you
While you're here, meet some of our other meditation teacher graduates in our blog. Last month, we spoke to Kerryn Slater