Highlighting Our Students – Robyn Cruickshank
We are very excited to introduce you to soon to be graduate Robyn Cruickshank! After having had 2 breast cancer diagnosis's and many surgeries Robyn decided she needed to make big changes to her life and on that path she was led to ACMM. Robyn now wants to create a calm, nurturing space for women who have been diagnosed with breast cancer or are working in a stressful career in the health industry. Here is her story!
Hi Robyn! Tell us a little bit about yourself…
Hi! I have completed all my sessions in my advanced certificate and am currently finishing my case studies. I am married (2nd marriage) a mum to 4 adult children and nana to 8 grandchildren.
I was living in Newcastle NSW until January 2021 when my husband & I left to travel Australia in our caravan. Until July 2020 I was working as a manager in a busy medical centre, but after having had 2 breast cancer diagnosis's since 2011, and so many surgeries over the past 4 years that I have lost count, I decided I needed to make big changes to my life. The past 9 months have been life changing and amazing.
What attracted you to become a meditation teacher and study with ACMM?
As I studied to develop new skills to teach kids mindfulness and relaxation techniques, I realised I wanted to pursue a certificate in I have been interested and meditated for a long time now, since my 1st marriage ended back in 2000. It was always an on and off again practice.
Following my illness in 2017 and the ensuing long journey to wellness, meditation became part of my life completely. Last year when I knew in my soul that things needed to change with my work life, ACMM just seemed to "be there" I just knew intuitively that this was my answer. As long as I can remember I wanted to travel Australia and meditate!
How has meditation impacted you on a personal level – what are the benefits you have seen?
Personally meditation has changed my life 100%. It has taught me about my feelings, about body awareness, opened my heart & soul.  Taught me to listen to my Intuition, so many amazing life changes.
What does your personal meditation practice look like? What styles or types of meditation do you enjoy?
I practice every morning as soon as I wake. Then again during the day or at the end of the day. I have used it when life gets tricky, stressful or when I just need an answer to something. I like relaxation, self compassion, visualisation, mindfulness, body awareness.
Do you have your own meditation/mindfulness/holistic business, plans to start one?
Yes my business in Zencea Meditation. I generally work with women aged 40 onwards. My vision for my business is to create a calm, nurturing space for women who have been diagnosed with breast cancer or are working in a stressful career in the health industry learn how to practice mindfulness, meditation and develop healthy lifestyle habits. I would like to educate them that there is another way to live that doesn't involve constant stress and pressure and being time poor.
I want to show them it is possible and very important, to put themselves as number 1 in their lives.
Do you have any events, workshops or classes coming up in the next few months?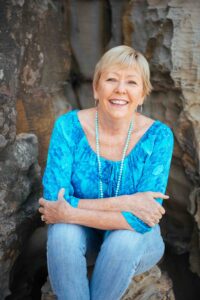 What would you say to someone who is thinking about becoming a meditation teacher?
If your heart and soul are pulling you in the meditation direction, I would recommend the advanced certificate. Personally it has been so very rewarding.  Some days it is challenging and you may feel you can't possibly write a meditation or open yourself up to being vulnerable, but when you do, there is beauty and resilience there for you.
What have you enjoyed about studying with ACMM?
My amazing teacher Felicity. We connected from the very first phone call. I felt supported every step of the way. The resources are invaluable. I was constantly inspired and encouraged to keep going. It was a nurturing environment. I loved the choices in the electives; being able to match them with my career direction.
Find more about Robyn here:
https://www.zenceameditation.com/
https://www.facebook.com/Zencea/